Okay, so a few days ago, I talked about a new company that produces some really great digital stamps, Ildi Co. Digital Stamps.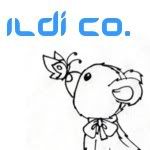 Well, as it turns out, I made it onto the design team with this little card that featured their adorable bear, Kuma. The stamp is called
Cuddles-Kuma Picnic
:
I've added links to the other members of the design team on my sidebar, as well as a link to the store. For those of you who want a great deal, be sure to take advantage of Ildi Co's limited time offer. You can get 10 images for $20.00. Check out the
Etsy site
and check out the stamps. When you decide to buy them (because you totally should!), click on the 'Contact Ildico3' button on the sidebar or you can email her directly by
clicking here
. The link opens in a new window and will be in your email program. Just say you want to take advantage of this wonderful opportunity. This is a fantastic opportunity, you save $6.50 by buying all ten directly.
Okay, well that's my post for now. I'll be back as soon as I can with more wonderful things. If you have time, check out the rest of the design team at their links on the sidebar--you won't be disappointed.