Yes, I know, I'm terribly behind in so many things, it's almost been a month since my last post--eek!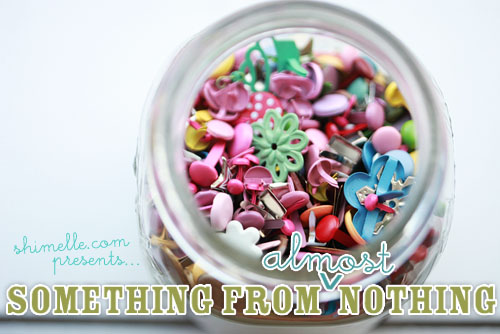 Well, I decided to wait to post until I had something crafty to share, and boy, do I EVER have something crafty to share! I'm taking another class from Shimelle (yes, the other three are still in progress, LOL)--this one is called
Something from (Almost) Nothing
.
Starting on Wednesday, 10 March, it features three weeks of class prompts--and we'll even be able to create an album called 'Celebrate Life' which I think I'll use one of my still-in-the-package
AC Modern 6x6 albums
. I don't scrap a lot in that size, but there's something about AC Modern Albums that draws me--plus, it's small enough to be able to be carried around. Yay!
I'll get three emails a week (Monday, Wednesday and Friday) from Shimelle, and, since it's one of her classes, there are TONS of things she includes:
Something from Almost Nothing includes:
…more th
an 60 pages of full-colour class materials, including work from guest artists & illustrated steps for more complex techniques
…printable accents for album project (purchased separately, these come to $9.90)
…bonus journaling and photography prompts for your Celebrate Life album.
Like all online scrapbooking classes at shimelle.com, this class includes
…permanent access to all class materials
…private forum for discussion and sharing your work
…prompts delivered straight to your inbox.
All of this for only $15! And it's granting permanent access to the materials AND printable accents. All, in all, it's a win. Even if you haven't taken a class, or aren't sure that it's for you, I highly recommend this class--it's all about working with what you have. Repurposing. It's a great incentive to use your stash because you can make an album, you'll have something tangible at the end. Each email will include a sketch, technique and pointers in photography and journalling.
I'm hoping this is just the thing to get me back into creating, which I sorely need to do. And I also need to get better organized. And, I also need to use up some of the supplies I couldn't live without--it's all well and good that I have them, but what's the purpose if they're just sitting on a shelf?
So, without further ado, I'm going to share photos of my stash and work area. Don't judge.


This is in the spare room, which is almost overflowing with books and such. Remember, I moved in November. There's my big clip it up and my stack of 8 and 1/2 by 11 paper. I heart kraft cardstock. My table is also in here, but I'm not going there.
My craft closet. It's in sore need of more cleaning.
This is me!